NCSE - National Center for Science Education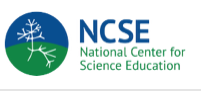 Aims
NCSE defends the integrity of science education against ideological interference. They work with teachers, parents, scientists, and concerned citizens at the local, state, and national levels to ensure that topics including evolution and climate change are taught accurately, honestly, and confidently.
NCSE's programs support people and organize local communities to ensure that evolution and climate change are taught without compromise. They are vigilant in monitoring for anti-science legislation, inaccurate textbooks, and compromised science standards, and effectively organize local responses whenever problems arise.
Board of Directors
Kenneth R. Miller (President); Lorne Trottier (Vice-President); Robert M. West (Secretary), Michael Haas (Treasurer),Vicki Chandler, Michael B. Lubic, Michael E. Mann, Naomi Oreskes, Barry Polisky, Benjamin D. Santer. 
Staff: Ann Reid (Executive Director), Glenn Branch (Deputy Director), Kate Carter (Director of Community Science Education), Lin Andrews (Director of Teacher Support), Nina Hollenberg (Member Realtions Manager), Rae Holzman (Director of Operations), Deb Janes (Director of Development), Paul Oh (Director of Communications), Emma Doctors (Program Coordinator), Stuart Fogg (IT Specialist).
National Center for Science Education
1904 Franklin Street Suite 600
Oakland, CA 94612

Phone: (510) 601-7203
Fax: (510) 788-7971

General: membership@ncse.ngo -  info@ncse.ngo
1904 Franklin Street Suite 600
Oakland, CA 94612

Phone: (510) 601-7203
Fax: (510) 788-7971

General: info@ncse.com
Services and Resources
The section "Get Involved" contains detailed information on how to support the activity of the Association and its Campaigns. It also contains information on how a teacher can "ask for help" at the NCSE in case of problem. 

The "Teaching Resources" section presents a rich collection of information, teaching and didactic material, on the nature of the scientific method, creationism, evolutionism, climate change theories and the reference legislation.

The Newsletter "RNCSE Reports" is published quarterly and is available online. 
Usability